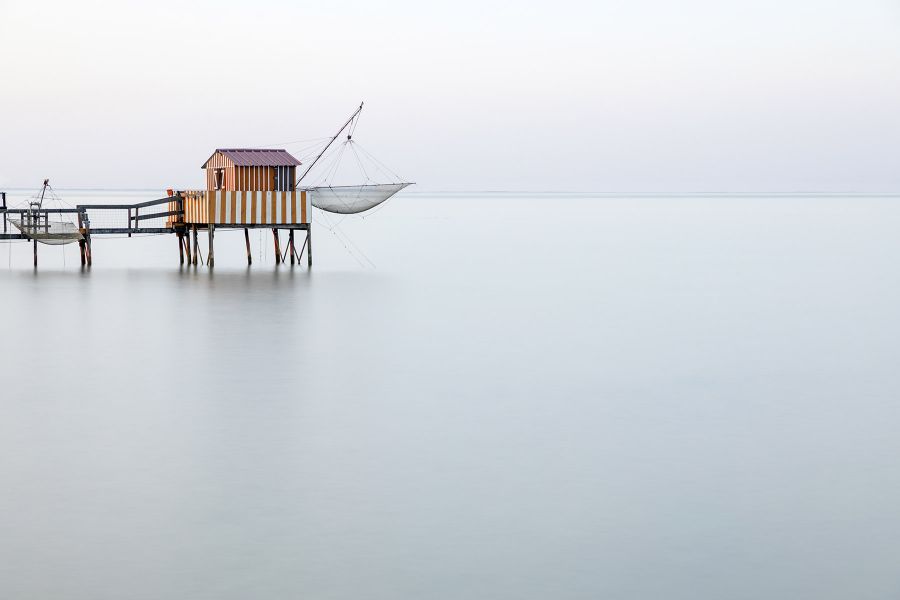 Posted on 25th May, 2021
Stilt fishing huts known as carrelets (which refer to the square nets) or pecheries, can be found along the Atlantic coast of France between Bordeaux and Saint Nazaire. Mainly situated in the river estuaries of the Loire, Charente and Gironde, the small wooden huts sit on posts and can be reached by a ladder or a walkway.
Situated on a river bank or next to cliffs on the coast, they are often grouped together and most face west. Before going to a location I use Google Earth to check the orientation and position of the carrelets. I'll check the access to see if it's possible to park nearby or if it's necessary to walk.
I take note of the tide which can have a huge effect on the image. As most carrelets are located on estuaries, low tide isn't an ideal time to photograph them. The river bed is muddy and the water tends to be too far out. It's just not that pretty. If they are situated on a sandy beach or built on rocks, they can look very picturesque at high tide or low tide although I prefer some water around the base of the posts. High tide is the perfect time to use ND filters for long exposure. If there is little wind, 30 seconds may suffice, otherwise 1-2 minutes can create a smooth effect on the water. A calm, cloudy day is perfect for long exposure, especially if you want a minimalist feel to the image.
If you're shooting into the rising or setting sun, you'll need to use a graduated filter to balance the sky with the water. Or alternatively, you can take multiple exposures. This can create different effects on the water however and cause problems when blending the image. A way around this is to use the sky from one frame and the sea and carrelet from another.
Read More